Many pros come with owning a gas grill. First of all, as compared to charcoal grills, gas grills are less messy. Also, charcoal grills take a lot of prep time before you start using them while gas grills only take only a few minutes. Due to these and many other benefits, many of you may think that gas grills are pricy.
Well, some gas grills indeed tend to be on the expensive side; however, there also exist many others that are cheaper. To ease your search for affordable ones, we have prepared this review that features 10 Best Gas Grills under $500.
Best Gas Grills Under $500 Reviews:
10.

Char-Broil 463377319 4-Burner Gas Grill
The Char-Broil Gas Grill features a polished stainless steel finish that leads to it having a stylish look. Besides, its stainless steel material ensures the durability of this product. Due to its electric ignition, you can say goodbye to matches. To ease its cleaning process, the grill's porcelain-coated grease pans are removable.
With it, you will experience even cooking seeing that its steel burners emit flames from the top. Its cast-iron grates are porcelain-coated for durability and to make them rust-resistant.
9.

Char-Broil 463673519 2-Burner Gas Grill
Looking for a gas grill to host you next family cookout? You should consider investing in the Char-Broil 463673519 2-Burner Gas Grill. This grill can deliver 24,000 BTU's of heat across its entire 300 square inches of cooking surface. It has an electronic ignition for reliable and fast startups. The grills stainless steel construction does not increase its durability, but it also leads to it having a stylish appearance.
Its removable grease plate is porcelain coated for longevity and easy cleaning. Controlling the heat of this grease will be possible through is the lid-mounted temperature gauge. Metal side shelves that fold down are equipped on it for storage.
8.

Char-Broil 463375919 Steel 4-Burner Cabinet Style Gas Grill
To ease in the mobility of this gas grill, it possesses four Omni-directional durable wheels. Its removable grease plate is porcelain coated for easy cleaning and durability. This four burner grill can deliver 36,000 BTU's of heat across its 425 square inch cooking surface. If there is a need for an additional cooking surface, it has a lidded 10,000-BTU side burner.
By installing two side shelves on this grill, one will have more storage and prep space. For reliable and fast startups, it has an electronic ignition system. Controlling and monitoring its heat is possible through its lid-mounted temperature gauge.
7. Blackstone 1554 Station Grade-Professional Flat Top Gas Grill Griddle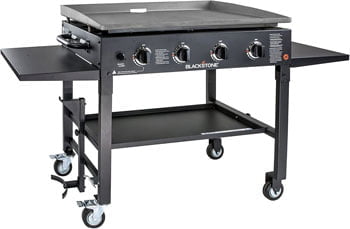 We would like to introduce you to this top seller gas grill griddle from Blackstone. Although it comes when not assembled, it has a simple assembly process. A button is conveniently placed on the grill for quick ignition. Four heavy-duty casters on this grill will allow effortless mobility. Also, two of its wheels are lockable to ensure it stays in place when in use. Its four burners can independently be controlled.
The burners sport a stainless steel construction for longevity. It is the best fit for holding parties due to its large cooktop.
6.

Cuisinart CGG-7400 Propane Four-Burner Gas Grill
The four burners of this grill offer a combined total of 44, 000 BTUs of cooking power. Due to using heavy-duty cast iron in making its grates, they end up being efficient in retaining heat. It has an ample cooking space of 443 square inches and an additional 167 square inch rack for warming food. A drip tray is in place for catching excess drippings and grease.
With this grill, you will have enough space for food prep thanks to its two 18″ x 13″ side tables. Its four steel burner will allow maximum control of its heat. An electric ignition system is in place that eliminated the need for using lighters or matches.
5.

Char-Griller E3001 Grillin' Pro Gas Grill
Are you looking for a grill that is guaranteed to last, the Char-Griller E3001 Grillin' Pro Gas Grill features a heavy-duty steel construction that will do just that. Besides, it is powder-coated to ensure that it can handle the outside elements. It offers 40,800-BTU of cooking power for fast and even cooking. The grill's electronic ignition eliminates the need for lighters and matches.
In addition is has massive grill space of 438 square inches. To ease warming food, an addition 192 square inch warming rack is included. Lastly, to prevent rusting, its cast-iron grates are porcelain-coated.
4.

Cuisinart CGG180 CGG-180 Petit Gourmet Gas Grill
This gas grill sports a compact size that measures only 16.5″ W x 16″ L. Despite being this small it has an ample cooking space of 160 square inches that can accommodate lots of food. Besides, the cooking grates are porcelain-coated for durability and to prevent rusting. Thanks to its design, it can be used as a free-standing grill and can accommodate six people at once.
The grill only weighs 17 pounds hence easily portable. Its design allows it to be setup and packed down within seconds for storage or transportation. Since it has a drip tray cleaning it would be effortless.
3.

MASTER COOK 3 Burner Propane Gas Grill
Holding BBQs will be a lot easier once you purchase this gas grill. This grill's burners can offer a total of 30, 000 BTU cooking power per hour. With just a simple push and turn of the control knob, you'll be able to turn it on. Control its temperature is made possible through its lid-mounted thermometer. Two large wheels are equipped for effortless mobility. It has a large cooking area of 132.8 square inches.
Moreover, its wire grates are porcelain-coated to prevent rusting. Extra storage is availed when you unfold its side shelves. Lastly, the grill is powder coated to enable it to resist the outside elements.
2.

Weber 46110001 Spirit E-210 Gas Grill
The Weber 46110001 Spirit E-210 Gas Grill is designed to fit small balconies and patio spaces. It features coated cast-iron grade that is long-lasting and won't be affected by rust. For extra prep space, the grills have two folding side tables. The grill has ample cooking space of 450 square inches that can handle a few types of food at the same time.
Furthermore, it has a sturdy heavy-duty build with an enameled lid; therefore, you should expect it to serve you for a long time. It sports a grease management system that makes cleaning it easy. Six tool hooks are included for effortless accessibility when grilling.
1.

Fuego F21C-H Element Hinged Propane Gas Grill
Although it is a bit new in the market, this gas grill has a 4.6-star rating after 164 customer reviews. It has a unique design that will make it stand out whenever you are hosting a BBQ in your backyard. The grill's dual burner system will offer up to 22, 000 BTU of cooking power. Thanks to its porcelain enamel lid there won't be any paint bubbling or peeling.
Also, it has a large cooking area of 346 square inches. An optional griddle is included and a pizza stone kit. The product is fit for small balconies or patio seeing that it has a compact size measuring only 21″ X 21″ inches.
Conclusion
Although they are on the affordable side, you should underestimate the functionality and quality of these gas grills. Also, we have made sure only to include grills that are not only durable but also have a stylish design, thus making sure they stand out whenever you are hosting a party. Hence you should invest in one with your mind at ease knowing well that your hard-earned cash won't go to waste