The most productive way to start your day could be getting your morning coffee such as a latte or cappuccino at your closest coffee shop. To some extent, some people cannot even go to work or start their day without getting at least a cup of coffee. On the same page, some people also find that it may be a costly habit if we do the calculation.
Hence, we would like to recommend milk frothers, which allow you to make your own coffee at home. You can have those smooth, creamy drinks and you will be able to save more money and time. There are many milk frothers to choose from, however, and many specifics to take into account, including scale, portability, capability, and cost.
List of the Top 9 Best Milk Frothers of 2023
9. Secura 4 in 1 Electric Automatic Milk Frother and Hot Chocolate Maker Machine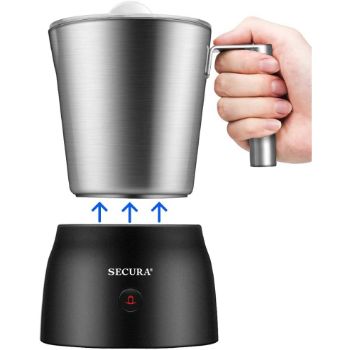 This one is a perfect choice if you're looking for a frother that can be seen on your kitchen counter. The carafe is made of exquisite stainless steel and is also vacuum insulated to maintain temperature. Whether you like lattes, this flexible frother can heat milk, or it can make mocha hot or cold milk froth.
Because the volume doubles, it carries about one cup for warming and a half cup for frothing. It's simple to work, depending on a single, straightforward press. It also provides a detachable base and a cleaner that you can use to clean your unit for quick pouring.
Upon checking the product, our reviewer wrote that this milk frother is an automated functionality and that customers need to do nothing other than pushing the button.
Key Features:
This Secura Milk Frother has a 250 ml milk storage capacity.
It is also easy to clean.
8. HadinEEon Milk Frother, Stainless Steel 16.9oz/3.4oz Electric Milk Frother Automatic
This compact, beautifully built, and reasonably priced gadget does a fine job at once of frothing up to 7/8 of a cup. You cut the little spring from the whisking attachment if you want to heat milk without frothing it. Since it's a little part of it, you have to be careful not to misplace it.
There should be no immersion of the body in water. To clean, quickly rinse under hot tap water or use it for a more thorough washing in a glass of hot soapy water. This portable frother is available in a range of different colors and styles. The only and major downside is that it only provides hot or hot frothed milk, with no cold environment. That means if your drink of choice is an iced cappuccino, this is not your option.
Key Features:
There are 3D LED indicator lights on the body.
The price is fairly considerable.
7. Nespresso Aeroccino3 Milk Frother, One Size, Black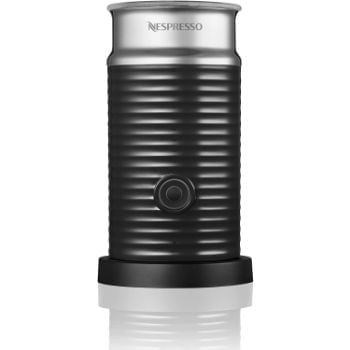 If you're passionate about coffee, you need a serious, high-end foam that makes the smoothest, thickest foam with tiny bubbles. For various forms of froth, this electric frother contains two different frothing disks. Smooth, creamy milk is produced by the latte frothing disk, while a deep, creamy froth is formed by the cappuccino frothing disc. The onboard room is available for the discs, meaning you won't miss them at the bottom of the cabinet.
You may use this to make smooth, fluffy hot chocolate or other hot drinks in addition to frothing milk. Even, it's easy to use. All you have to do is pick the correct disk, fill it with enough milk to make one to three cups of foam, choose the pressure and start the unit.
Key Features:
This frother will automatically shut down once the work is done.
This is ideal for both hot and cold beverages.
6. HadinEEon Milk Frother, 4 in 1 Electric Milk Frother and Steamer, Automatic Milk Foam Maker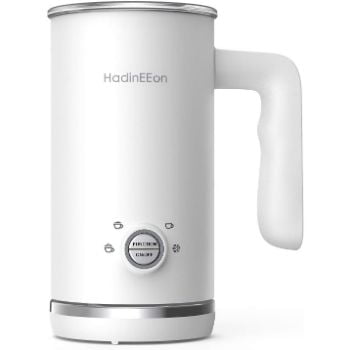 This frother was in competition with our other choices as it has a lot of top quality. It can make instant coffee or froth milk, but it doesn't cost twice the amount. It only contains a limit of 9 ounces of milk for frothing and there are only two settings, hot and cold.
That being said, it might be worth the splurge if you enjoy almond milk as it whipped Silk brand into almost dry ingredients. Simply turn attachments to heat the milk without frothing. The one not used in the lid is easily stored. With a large stainless-steel bar handle and a spout to spill the milk, the HadinEEon has a nice texture.
On its inner nonstick surface, we found it simple to see the average and full lines. With a large stainless-steel bar handle and a spout to spill the milk, the HadinEEon has a glossy finish.
Key Features:
You can enjoy 4 different types of milk foams.
The price is affordable.
There are line indicators for maximum and minimum lines.
5. Milk Frother, Miroco Electric Milk Steamer Soft Foam Maker for Hot and Cold Milk Froth,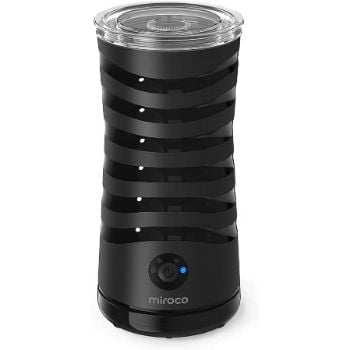 Our Miroco Electric Milk frother is one of the smart and efficient options for you if you are looking for a tiny and light mixer. This milk frother's body and design should be the first thing to notice, weighing 2 lbs and the size of a small cabinet. This is also sufficient for both small and large kitchens, and for flight. You will then carry it in any corner of your kitchen or your luggage for flying.
Also, 150W and three-speed models are available. It also has four shades, such as red, white, aqua, green, for you to select. The best thing about this piece, above all, is the product's clever style. You can easily turn it off after you use it.
Key Features:
The internal wall is insulated.
It is very durable and you can use it for years.
It has 4 settings for milk frothing.
4. HadinEEon Milk Frother, 4 in 1 Electric Magnetic Milk Frother and Steamer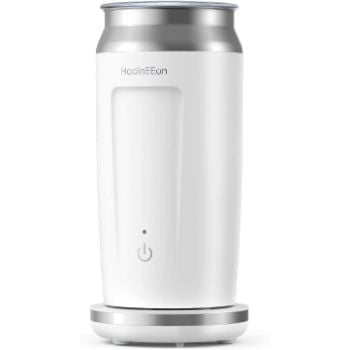 We will present you with our favorite fourth product, HadinEEon Milk Frother. This brand has been receiving good comments from buyers over the years. If you are looking for a decent price milk frother. At any point, you can get a milk frother with 4-speed options for about forty bucks. You will make several types of milk foam using simple speed ranges. It is very easy to clean thanks to its retractable beater nozzle. In comparison, the price of the commodity is reasonably decent.
You will have it for about forty bucks, thus. It comes with a 500W motor, which is powerful enough to froth hot creamy milk. In addition, once you use it, there is plastic packaging that is easy for you to store your items.
Key Features:
It has a very sleek body. With minimalist design.
While frothing, there won't be any annoying sounds.
3. Breville BMF600XL Milk Cafe Milk Frother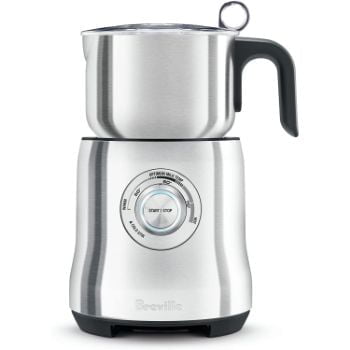 TheBrevilleis light, realistic, and easy to use, as can be seen in its pictures. In addition to this, this milk frother can be ranked in our top three list based on its features. Uniquely, in order to ensure sticky creamy, this product has a twenty percent slower start at start. More than that, it also has a soft button, which is easy and responsive when pressing.
Keeping three cups of frothed milk, the Breville BMF600XL Milk Frother provides a considerable amount of temperature and form control, including a cappuccino and latte disk, a cold stir option, and uses induction heating as opposed to a motor. It's safe for dishwashing and has a spout for pouring. It just has everything you may need it a milk frother.
Key Features:
You can easily adjust the temperature based on your preference.
You can easily wash this in the dishwasher.
This milk frother has an auto-shutdown function.
2. Detachable Milk Frother, 4 in 1 Miroco 16.9oz Automatic Stainless Steel Milk Steamer with Hot & Cold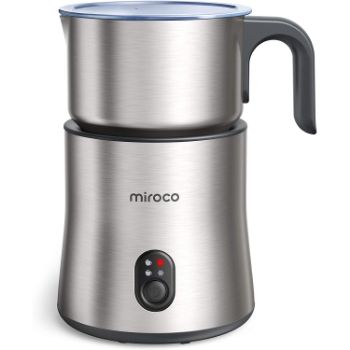 There are plenty of inexpensive milk frothers out there, but due to its quality, one-touch convenience, and of course the budget rate, the Miroco Detachable Milk Frother is our top pick. Although the majority of frothers are manual or hand-held in this price range, this one is electric, and in less than one minute it froths milk.
All you have to do is plug it in and switch the only switch that's on the matte black unit, elegant and simple. The milk also heats up as it froths, perfect for tasty lattes and cappuccinos to be effortlessly poured over espresso. The frother contains a maximum of 10 ounces, but for better results, 8 ounces is recommended; simple labels are inside to show proper results.
Key Features:
The bottom base can be detached from the top.
It works quietly and quickly for you to serve your coffee needs.
1. Miroco Milk Frother, Electric Milk Steamer Stainless Steel, Automatic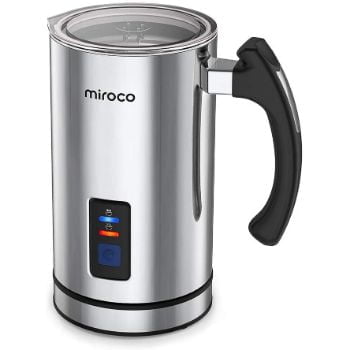 You may have seen many milk frothers from Miroco already. But we really have to add this to our list because of its top-notch performance. It is commonly popular because of its design and sleek body. They are maybe high-priced, like this Miroco milk frother, but the quality ensures that for years to come they can stick around so please feel fine to purchase this milk frother.
To ensure delicious and fresh coffee quality, this milk frother is built with many useful functions. To begin with, there are seven distinct settings to choose from, all operated by a single dial. From temperature regulation to milk purity, choices cover everything. The preset feature for hot chocolate is particularly loved by clients.
Key Features:
There are safety measures included in this milk frother.
The stainless steel is pretty safe.
It will take only 60s-120s to frother 100 ml of milk.
Best Electric Milk Frother and Steamer Buying Guide
Speed
Some sling bags are adjustable, which is perfect for commuting or outdoor activities since they can take up little room when not in use or when you don't have anything to carry, but when extended, you can still fill them with a good amount of items. This trick works well on tiny sling bags, but on larger ones. It can be excessive.
Temperature Settings
The eventual flavor of what you drink has a significant effect on the temperature of the milk and the brewing water. The water or milk temperature will enrich or ruin the flavor of your coffee, so it's important to have a perfect level. This is why you can regulate the amount and set it to the best of your preference with some milk frothers with climate control options.
Size
Not everybody gets a single cup of froth at a time. For visitors or relatives, you may want to spray more milk. This is why it is essential to remember the potential of the milk frother beforehand. Some milk frothers are available that allow you to froth up to 3 cups at a time. You'll do the frothing several times in parts with everything beyond that.
Conclusion
On this compiled list, there are a variety of excellent choices, but it honestly comes down to what you plan to invest in. The Miroco Milk Frother will be our choice and it would be a good choice for you too if you're reluctant and just kind of want to try it out.
If you end up not using it much, this portable frother may not take up space, but it's still a quality device that won't let you down if you decide to buy it to use.
Frothing is the most entertaining part of brewing coffee or tea. In seconds, just watching the milk turn fluffy and tasty is a pleasure. So by purchasing the wrong unit, do not diminish the joy. Choose one of the better Milk Frothers we have tested here. When choosing the correct one, the important thing is to take the time.