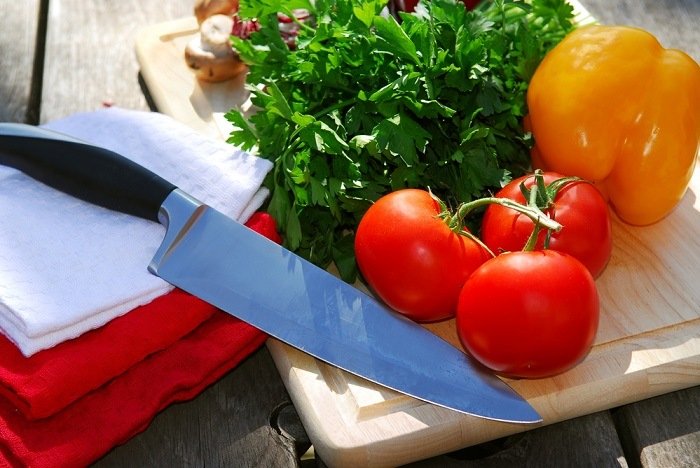 5 Best Chef Knives for Weekly Home Use
Cooking is so common that only few of us feel like chefs when preparing dinner. You work your creativity and skills to develop good-looking meals that should also be tasty and quick to make. There needs to be harmony between all your kitchen tools so that you can have a smooth cooking process. Slicing, carving, mincing and dicing ingredients can fasten and improve when you use the best chef knives.
Chef knives are professionally-developed kitchen tools that allow you to cut meat, vegetables, fruit and fish. They are made for restaurants, chefs and cooking specialists. You recognize chef knives by the wide and usually long blade and strong and balanced handle. Chef knives were initially invented to help cutting beef. However, they become essential tools once you discover that chef knives are above all multi-purpose.
What You Should Know about Chef Knives
The most popular chef knives for home use have an 8-inch (around 20 centimeters) blade, usually made of carbon or stainless steel. You may also find laminated or ceramic models. However, these are more fragile.
The best chef knives are available in online or specialized stores. Don't fall for the cheapest products available in convenience stores – they are neither long-lasting nor safe. You should research and make a shortlist before picking your favorite knife.
Make sure that online reviews include specs, sizes and manufacturing techniques. Click here to see how thorough reviews of the best products of their kind should look like.
Weight and cutting techniques differ for any user. Chef knives are a lot about usage convenience and balance. If the knife feels like falling continuously when you use it, you have just found the perfect model.
Grip the knife by the handle and cut a sheet of paper. You should use your most comfortable position and end up with a straight cut.
Choosing out of the Best Chef Knives Available Now
1.      DALSTRONG Chef's Knife
There are products with 5-star ratings which are also market as Amazon's choice. This is the DALSTRONG chef's knife. The knife combines craftsmanship with technology by being hand-polished and having an ultra-premium G-10 handle.
The knife is robust while having a premium ability to cut without allowing slices to stick to the blade. Its edge is sharp, and its handle is ergonomic. Specialists say that it cuts with a surgical-like precision. This is thanks to the Japanese rust-free steel, folded in 67 layers to create a spectacular blade.
2.      ZELITE INFINITY Chef Knife 8 inch
Japanese specialists have managed to revolutionize by using craftsmanship for this product also. The chef knife was developed to ensure precision and efficiency for most of your ingredients. You will notice that it's a bit heavier. However, its weight was calculated to support perfect balance.
The knife is non-stick, stain and rust resistant and was designed with great attention to details, as you can see on its blade. This is one of the best chef knives as it managed to make its design functional. Therefore, it ensures smooth cutting for meat, fish, fruit, vegetables and herbs.
3.      Dom Marzen Chef Knife
The best chef knives need to ensure high quality. Therefore, the Dom Marzen chef knife combines carbon steel which ensures stability to the wooden ergonomic handle which balances its weight. The ultra-sharp blade is made using German engineering technology.
The knife also includes 16 – 18% chrome to prevent the blade from tarnishing or fading. You can chop, mince, slice, dice and even cut through bones or frozen food. This product is your reliable help whenever cooking becomes difficult.
4.      Mercer Tool Corp. Genesis 6″ Short Bolster Forged Chef's Knife
You will need a short-bolstered knife especially when you need to cook fast. The ergonomic handle helps you maneuver it easier if you must carve ingredients. The blade is made of high-carbon German which protects it from discoloration, corrosion or rust.
As manufacturers say, you can use t
he chef knife when your hands are wet. The knife is resistant to hot and cold temperatures, so you can easily take it on a camping trip. Moreover, its simple and stylish design makes it look fabulous next to your ceramic cookware.
5.      MasterGO Ultra Sharp Chef Knife
As we've said above, the best chef knives should be multi-purpose. This product is made using German stainless steel and is designed based on Japanese techniques. It has an ergonomic design thanks to its wood handle.
You can use it whenever you need sharpness, stability and precise cuts. Manufacturers also mention that you can use it to create some spectacular sushi rolls. The product also has a high corrosion resistance.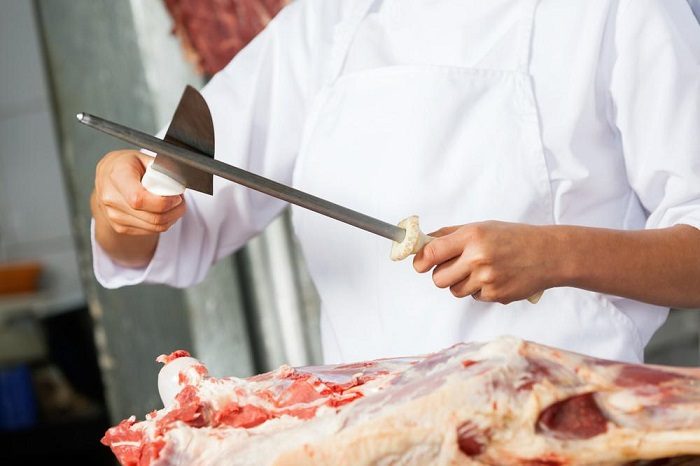 How to Care for the Best Chef Knives
The most reliable and best chef knives come with maintenance instructions. However, many manufacturers recommend users to avoid washing the products in the dishwasher, to protect their blade. Also, you should dry the knife before storage. You can sharpen the knife following guidelines.
You should avoid cutting on hard surfaces such as glass cutting boards. Specialists recommend using polyethylene plastic cutting boards. Also, you should have a knife block or a storage system which keeps blades separate.
Final Thoughts
The best chef knives are reliable and easy to use. You should get used to the products' specs after a few days. You should hold on to your chef knives for a few years as they are resistant and can always be sharpened.
Find the best chef knives and turn weekly cooking into professionally-looking and delicious treats!
Images Source: Depositphotos.com.