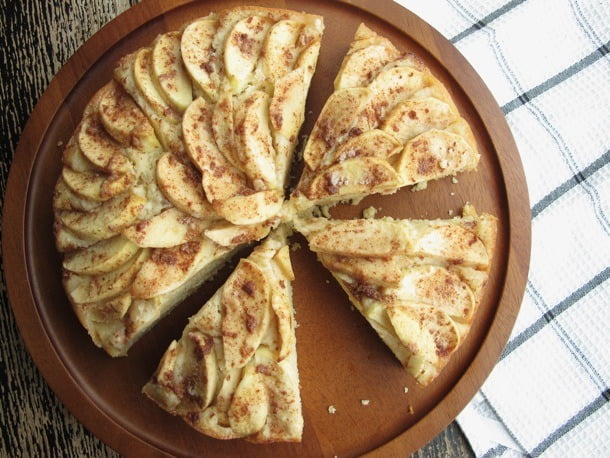 Healthy & Tasty Apple Cinnamon Cake
Here we present you this cake, filled with the goodness of apple and cinnamon. This is a 5-star cake and also one of the best recipe that can be served as a dessert or breakfast coffee cake. Apple Cinnamon cake is a moist delight riched with the healthy ingredients, giving a nice taste and texture to it. This cake is a classic coffee cake that looks great, tastes yummy, also provides a nutritional boost. The deliciousness and healthiness, at the same time, really its hard to wonder.
If you want to try this delight at your home, then this recipe will help you. This delight is perfect to fill your stomach, for satisfying the sweet-something craving, renders the spicy taste in the mouth, in short, this delight is the right stuff to eat. Go ahead and try this cake right now to have a bite of this extra delicious delight.
It can be the best karwa chauth gifts for your wife or can be the best delight for spending some quality time with your family. We are sure you are going to love the heady scent of the apple cake with cinnamon. This healthy delight is sure to put a sweet smile to your dear ones face. Below listed are the ingredients and direction how to make it. So, bake this sweet delight following the recipe guide step by step! Go ahead and make someone feel special and happy.
Preparation time: 30 minutes
Baking time: 1 hour 15 minutes
Servings: 14-15
Ingredients:
1 ¾ cups sugar
½ cup margarine (softened)
1 teaspoon vanilla extract
¾ cups cream cheese (softened)
2 eggs
1 ½ cups all-purpose flour
1 ½ teaspoons baking powder
¼ teaspoon salt
2 teaspoon ground cinnamon
2 large apples (diced and sliced)
Directions:
The first thing you do is to set the oven to 170-180 degree for 10 minutes. Then, grease the baking dish with butter, oil, and dust some flour on it.
You can make this cake in a 9-inch square cake pan, just for reducing the cooking time by 5 minutes and go for other options as per your needs.
Take a large bowl and beat 1 ½ cups sugar, vanilla and cream cheese. Beat it well to mix all the ingredients together. Try to blend the mixture manually instead of using mixer and blender. Next step, is to add eggs on at a time. Beat the eggs until it becomes smooth and fluffy. After this, add the above-listed ingredients in the mixture. Combine the flour, baking powder and salt. This is done so that the cake turns out softer. Add the flour mixture to the creamed texture ( already prepared). Beat it until it gets mixed all together.
After making the batter, combine ¼ cup sugar and ground cinnamon into it. Sugar is added in it to impart the right amount of sweetness to the cake (It will help you to make a low calories cake). Combine 2 tablespoon mixture of cinnamon and apple in a bowl. Stir the apple into batter. The thing you must keep in mind that cinnamon should perfectly grind before you add it into the mixture or preparation of the cake. This gives an apple square flavor to it. To make the mixture sweeter, you can increase the number of apples. Pour batter into a 7-inch pan coated with the cooking spray and sprinkle with the remaining cinnamon mixture.
Bake the mixture at 350 for 1 hour and 15 minutes. Bake the cake until it pulls away from the sides of the pan or the toothpick inserted in  it comes out clean. You can bake this cake at your home or else can get the online cake delivery to anywhere you want. Let this sweet delight cool completely on a wire rack. Now it's time to do plating. Cut the cake into slices with a serrated knife and serve it to your family, friends or relatives.
This fantastic cake is considered to be the best delight for spending some quality time with your close ones. Isn't it. Just follow the above-listed points step by step and get your healthy cake ready in some couple of hours. Try this out!