How To Make Vegan Lasagna By Yourself
Whether you're a self-proclaimed meat-lover or a strict vegan, this vegan lasagna recipe is sure to make you hungry for more.
Once you try this dish, you'll forget all about your favorite meat lasagna—or you'll forget this one's a vegan dish altogether.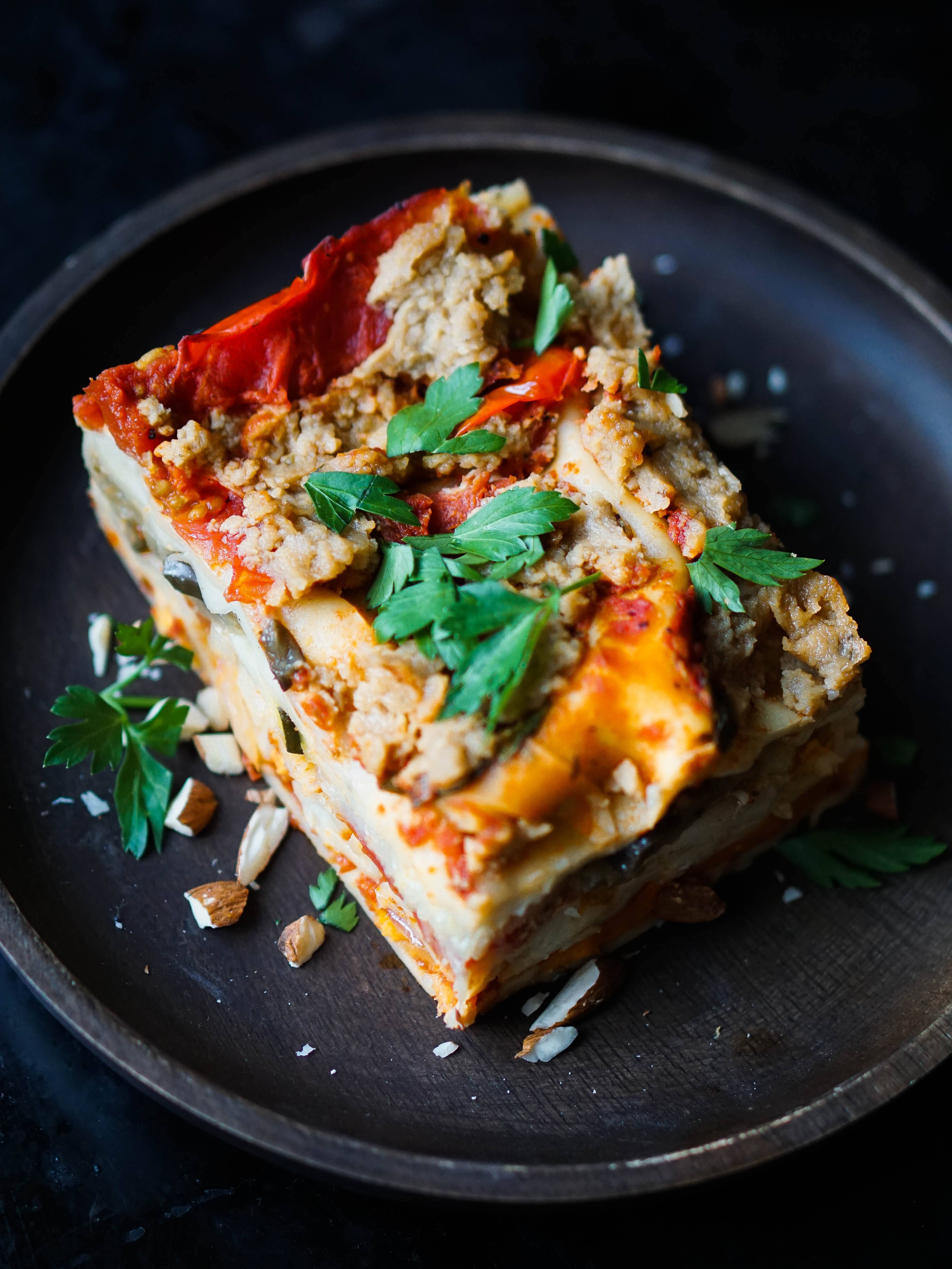 To prepare this delicious meal, you will need:
Ingredients
Tomato sauce
1 1/2 cans (600g) chopped tomatoes

7 cherry tomatoes, cut into quarters

1 large onion

2 cloves garlic

1 tbsp tomato paste

1 tsp oregano

100 ml water

A handful of chopped basil

Olive oil
Béchamel sauce
50 g all-purpose flour

450 ml soy milk

2 tbsp coconut oil

1 tsp nutmeg
Vegan cheese
3 big tbsp cashew butter

150 ml soy milk

2 tbsp nutritional yeast

2 tsp salt

1 tsp oregano
Other
1 zucchini

1 eggplant

1 sweet potato, cut 4 mm thick

1 clove of garlic

Coconut oil

Lasagna sheets

Salt and pepper

Baking pan (30 cm x 18 cm)
Garnish
Chopped parsley and basil

Nuts
Serving Size
Directions
Preheat the oven to 200 degrees Celsius.

Prepare the tomato sauce. Heat up oil on a pan and fry the chopped garlic and onions. Once golden brown, add the tomato paste, cherry tomatoes, salt, chopped tomatoes, and around 100 ml of water.

Let it simmer for a moment, then add basil, oregano, salt, and pepper. Keep mixing until it forms a creamy consistency.

Prepare the béchamel sauce. Heat up the coconut oil and add in the flour. While stirring, slowly add a portion of the soy milk. Keep stirring until it thickens and continue to pour in the rest of the milk.

Season the sauce with salt, pepper, and nutmeg. Set aside to cool.

Heat up coconut oil in a pan and add in 1 clove of chopped garlic. Once golden, add in the thin slices of eggplant and zucchini and season accordingly. Keep stirring so it doesn't stick to the pan and burn.

Start layering, from bottom to top:

Lasagna sheet

Tomato sauce

Lasagna sheet

Béchamel sauce

Sweet potato

Lasagna sheet

Tomato sauce

Zucchini and eggplant

Lasagna sheet

Béchamel sauce

Tomato sauce

Prepare the vegan cheese. Heat up the cashew butter and add in soy milk. While stirring, add in the nutritional yeast, salt, and oregano. Once it thickens, spread it all over the lasagna and bake for around 30-35 minutes.

Garnish your lasagna with chopped herbs, spices, and nuts.

Cut out a slice and enjoy!
Author Bio: Callum is the head of content at Burger Cheese. They are an Australian based dairy product manufacturer that specialise in the B2B market. When he is not creating content online, he's in the kitchen experimenting with different flavours and food combinations.