If you like a more efficient oven that can save space in your kitchen, then a countertop convection oven might be your best solution. But with the many brands available in the market today, choosing the best countertop convection oven can be difficult.
To help you with this shopping dilemma, we'll review five of the most popular convection models and share some useful buying tips.
Convection Oven Vs. Conventional Oven
Unlike a conventional oven that relies on radiating heat, a convection oven is built with a fan to circulate the air to cook food more evenly. Since heat is evenly circulated, cooking time is lesser than using a conventional oven. Even if you cook multiple items at once, you can still get the same good results because the same temperature reaches all sides of the food at all rack levels.
When it comes to versatility, the convection oven is better than its conventional counterparts because it offers more cooking options. Such cooking options include re-heating, warming, baking.
Why Use A Countertop Convection Oven?
Aside from faster and more even cooking, other benefits of using a convection oven are the following: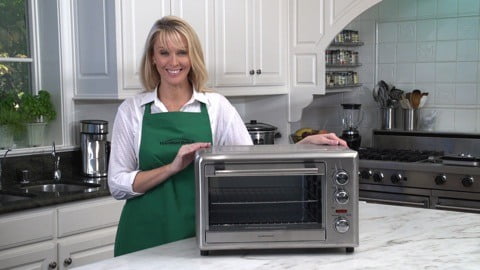 Better Browning: Unlike a conventional oven, convection can make a dry atmosphere that browns the food faster while keeping the interior moist.
Saves Energy: Using a convection oven saves energy because you can cook the food faster at a lower temperature.
Saves Space: As compared to conventional ovens, a countertop model can save you space in the kitchen as you can put it anywhere on the counter.
More Yield: Convection cooking minimizes food shrinkage. In some cases, it can even produce an extra serving of food.
Cook Almost Anything: From pizzas to meats and pastries, you can bake and roast anything with a convection oven.
Our Top 5 Best Countertop Convection Oven Recommendations
1. Breville BOV800XL Smart Oven 1800-Watt Convection Toaster Oven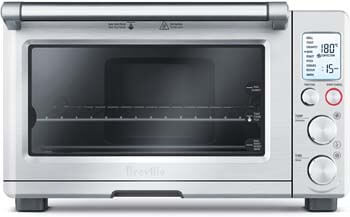 The Brevile BOV800XL Smart Oven is designed with Element IQ cooking technology, which moderates the power of the heating elements to cook food faster and more evenly. What I love about this model is its reheat function which you can use for your cold dinner meals. Other preset functions include toast, bake, roast, broil, bagel, pizza, cookies, and warm.
The backlit LCD display screen changes color from blue to orange when in use. The capacity of this model can fit a 13-inch pizza or 6 toast slices. Aside from the oven itself, you get three accessories: pizza pan, broil rack, and baking pan.
What We Like
Easy to clean with its removable pull-out crumb tray and nonstick interior surface
Equipped with a modern Element IQ cooking technology
Offers nine preset cooking functions
Built with a tempered glass door
Has a large capacity
The LCD display is easy to read with its backlit feature
Designed with a countdown timer
Shut-off automatically and alerts a sound when the timer is up
Easy to use with its total digital control
Supports a one-year limited warranty
What We Don't Like
A bit expensive
The pans that come with it are too thin to last
Because the oven is made of metal, the exterior can get hot during cooking
2. Oster TSSTTVDGXL-SHP Extra Large Digital Countertop Oven
The Oster TSSTTVDGXL-SHP Extra Large Digital Countertop Oven has a very large capacity that can fit a 16-inch pizza. This countertop oven is easy to use with its one-touch digital controls. Several preset functions include bake, toast, broil, pizza, and defrost. With its auto-shut off feature, you can set the timer up to 90 minutes and leave it as it cooks.
The Oster TSSTTVDGXL-SHP includes some great accessories including two oven racks, bake pan, and broil rack. If you like to check on the status of the oven during cooking, you can read the information displayed on the small LCD screen. The oven looks very sleek with its all stainless steel construction.
What We Like
Backed by a one-year warranty
Convenient to use with its easy to touch digital controls
Features a 90-minute timer and an automatic shut-off
Includes two oven racks, bake pan, and broil rack for more versatility in cooking
Designed with a small LCD display to monitor cooking status
Built with a durable stainless steel construction
Easy to clean
What We Don't Like
Makes some terrible noise during cooking
The temperature seem to be poorly calibrated and it can be changed only in 25-degree increments
The top edge of the door can get hot and burn your hand during cooking if you're not careful
3. Black + Decker CTO6335S 6-Slice Digital Convection Countertop Toaster Oven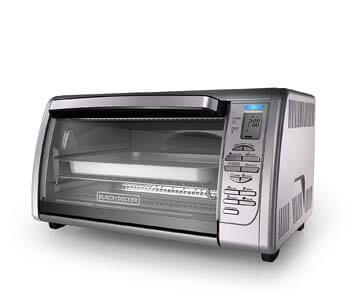 The Black + Decker CTO6335S includes a bake pan, toasting rack, and a broil rack. This countertop toaster oven is built with digital controls to offer precision control over preset functions, temperature, and time. Several preset functions include bake, frozen snacks, and bagel.
You can set the timer up to 120 minutes and the oven turns off automatically when the timer has run out. The CTO6335S has a capacity to fit a 12-inch pizza or six slices of bread. To make it easy to remove crumbs and keep your kitchen clean, this unit is built with a removable crumb tray.
What We Like
Features a 120-minute timer
Built with convenient features, such as LCD display and digital controls
Includes two racks for more flexibility
Designed with a removable crumb tray for easy cleanup
Constructed with stainless steel material for durability
Backed by a 2-year limited warranty
Has indicator lights for ease of cooking
Easy to use with eight one-touch preset functions
Extra-large interior
What We Don't Like
The digital screen would have been better if it's backlit
The labeling of the functions is hard to read
Works fine with most dishes, but not pizza
4. Hamilton Beach 31104 Countertop Oven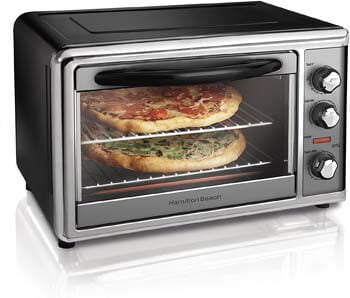 The Hamilton beach 31104 Countertop Ovenhas an extra-large capacity to fit two 12-inch pizzas, two cake pans, or two 9"x13" casseroles. Unlike the other models, Hamilton Beach 31104 includes a rotisserie for roasting any 5-pound chicken. As the rotisserie turns, the meat bastes itself resulting in a juicy meat output.
This model feature two settings: bake and broil. It also offers a toast function which makes this unit very versatile. You can set the timer of this oven up to two hours, which is more than enough to cook almost anything. Aside from the rotisserie, you also get two cooking racks and two baking pans for that complete package.
What We Like
Includes many accessories: two baking pans and two cooking racks
Includes a revolving rotisserie for maximum versatility
Built with an extra-large capacity
Designed with a 2-hour timer
Constructed of a stainless steel material for a polish look
Offers temperature options for cooking flexibility
Not dreadfully noisy
What We Don't Like
It would have been more convenient if it has an LCD display
The exterior can get warm during cooking
The glass on the door can't resist high temperature and might explode while cooking
5. KitchenAid KCO223CU 12-Imch Convection Countertop Oven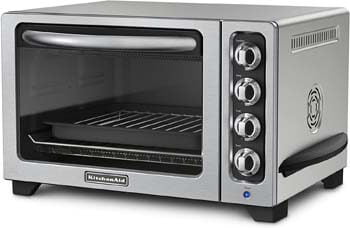 The KitchenAid KCO223CU is a countertop convection oven where you can bake, broil, or reheat food efficiently. You can use this unit just like you would to a full-size oven up to 450 degrees Fahrenheit. Its 12-inch capacity provides an adequate space to cook two 12-inch pizzas or cornish hens.
The KCO223CU features a 60-minute timer which reminds you when a dish is done. Cleaning can be a breeze with its nonstick coating oven cavity and removable crumb tray. This model also includes two stainless steel racks and broil pan.
What We Like
Has a large 12-inch oven capacity that can toast up to six slices of bread at once
Provides multiple functions: bake, broil, toast, and warm
Easy to clean with its nonstick surface and removable crumb tray
Features a 60-minute timer
Includes essential accessories, like broil pan, two steel racks, and crumb tray
Backed by a one-year replacement warranty
What We Don't Like
It would have been better if it had an LCD display
The sound of the knob during toasting is a bit annoying
The knobs are difficult to see in the dark
The racks tip easily so placing a pan with liquids might be dangerous
Which Is The Best?
Based on our scores above, it's clear to see that the best countertop convection oven is the Breville BOV8800XL Smart Oven because it has met most of the features that we desire. For instance, it has a one-year warranty and essential accessories.
Although its capacity may not be as large as Oster TSSTTVDGXL-SHP, this Breville model has the most convenient features and built with a great Element IQ cooking technology. Cleanup is also quite easy because of its nonstick interior and removable pull-out crumb tray.
Countertop Convection Oven Buying Guide:
Selecting The Right Size And Capacity
First things first, calculate the size of a countertop convection oven that you need. Measure the available space in your countertop and from there choose a model that will fit. You can determine the actual dimensions of the appliance by looking at the measurements provided by the manufacturer.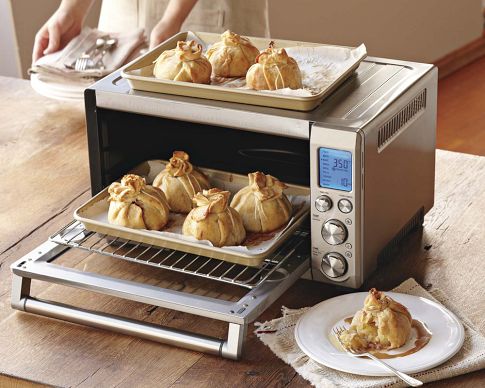 Via homedit.com
You can identify the size of an oven based on its slice capacity, but this can be a little misleading. The best method to identify the size and capacity of a countertop convection oven is to refer to its cubic foot measurement. Usually, a 0.6 cubic foot capacity is adequate to roast a whole chicken.
What To Look For
Accessories
To get more value than what you pay for, look for accessories. The more accessories, the better. Some countertop convection oven models include accessories, such as oven racks, rotisserie rod, or bake pans.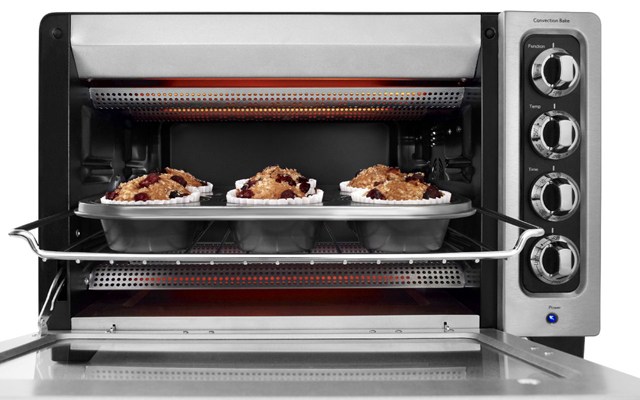 Via kitchenaid.com
Oven racks are great for convenient multi-level cooking. A rotisserie rod, on the other hand, allows you to roast meat as it turns. Meanwhile, a bake pan can allow you to bake different dishes, from cookies to pizza. For better air circulation, you may want the baking pans to have low sides.
Large Capacity
To accommodate more food inside the oven, look for an extra large capacity. A massive capacity can give you more flexibility in cooking, You can cook large items like a large pizza and multiple dishes at one setting. This makes it ideal for preparing large meals for a family party or gathering.
Convenient Features
For precise cooking temperature and time, look for digital controls. These controls make cooking easy by taking out any guesswork. If you want versatility in cooking, look for multiple preset functions, like bake, roast, and broil.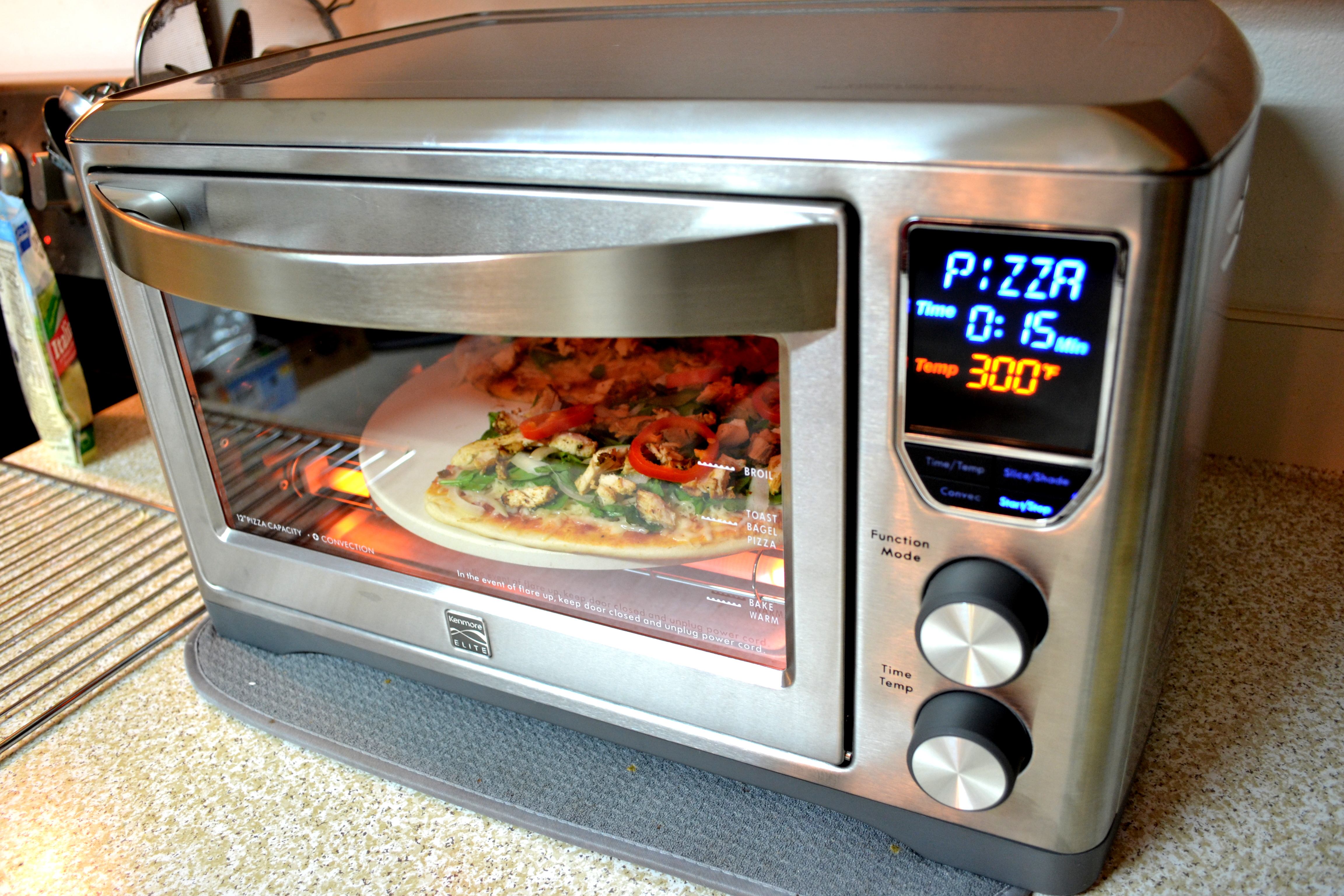 It will be more desirable if the countertop convection oven offers a timer where you can set to remind you when the food is finished. Some models can allow you to set the timer up to two hours. An LCD display can show a detailed information about the temperature and status of the oven.
For more convenience, look for a model that provides interior lights and a clear window. Both features allow you to view what you're cooking easily without the need to open the door.
Ease In Cleaning
The best countertop convection oven should be easy to clean. A slide out crumb tray can make the cleaning easy because you don't have to stick your whole hand into the oven. A nonstick interior is ideal as it prevents food from sticking to the surface. Just a simple wipe and you can keep the interior clean.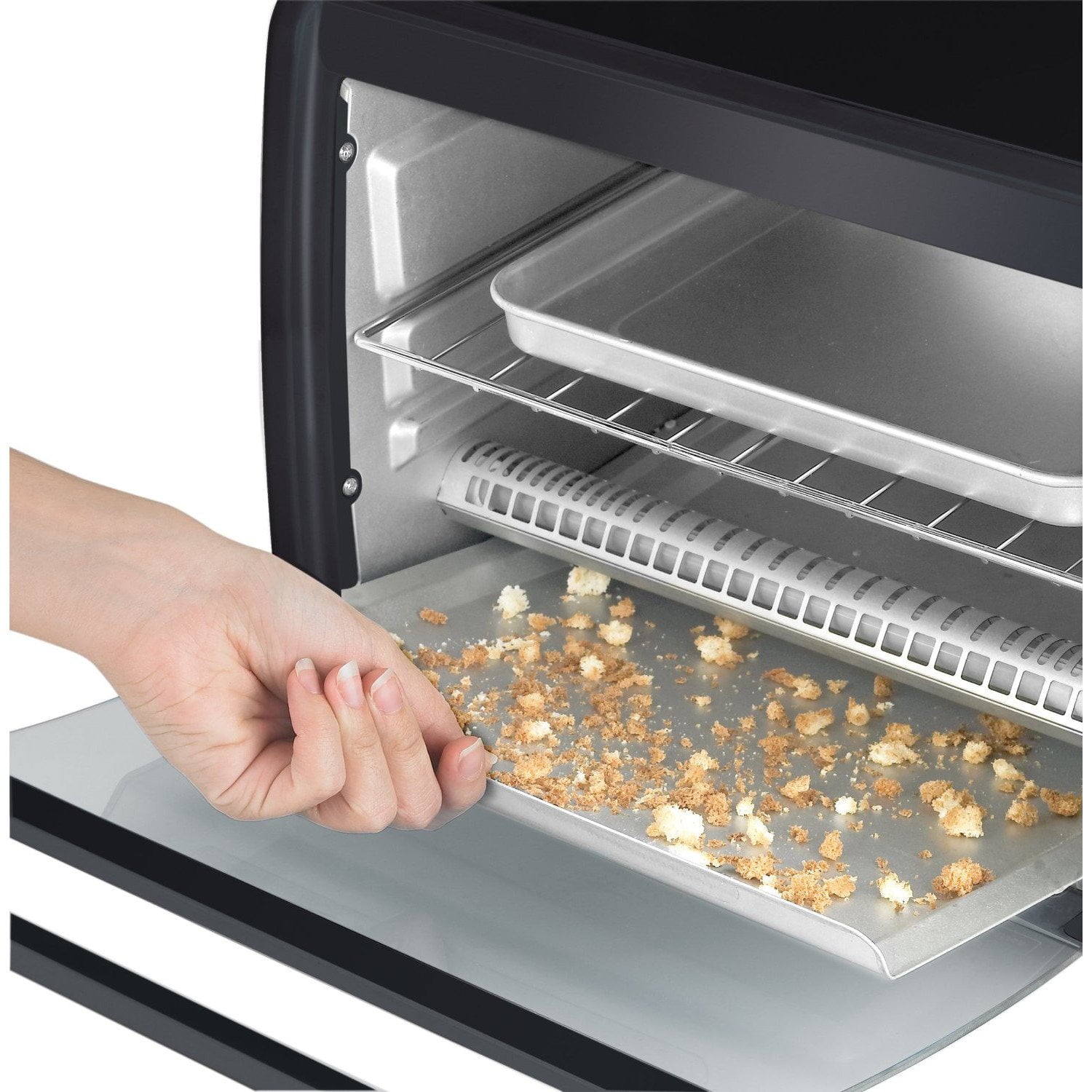 Via wayfair.com
If you want an easy to clean exterior, look for stainless steel. On top of being durable, stainless steel is easy to clean because you can easily polish a dull surface or wipe up a spill.
Warranty
Since the price of a countertop convection oven can be expensive, protect your investment by looking for a long warranty. A warranty can allow you to exchange or repair the unit for free, in case you received a defective unit. The longer the warranty, the more confident the manufacturer is in the quality and durability of the product.
If you have questions or suggestions about buying a countertop convection oven, let us know in the comments section. Please share if you like it.