If you are a person who loves to make candy or bake or cook, you would certainly understand the importance of knowing the right temperature of the food you are cooking. The candy thermometer is invented for this purpose since candy requires precise control of the temperature to make it right. A thermometer can also be very useful to measure the temperature of the boiling water, stew, or other bakeries.
To help you get started in making up your mind in choosing one among thousands of options out there in the market, the following are the reviews of the ten best candy thermometers already lined up for your needs.
List of the best candy thermometer reviews:
10. OXO Candy Thermometer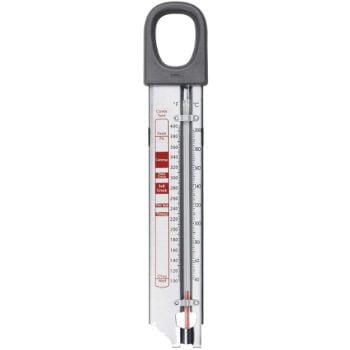 This OXO Candy Thermometer is designed with clear glass to allow for large, easy-to-read graphics that are suitable for different candy types, which include temperature ranges for different candy types. It also comes with the measurement markings temperature within two degrees in F and C for accuracy and preference. Additionally, the convenient clip is extra long to make it easy to attach, remove or adjust and the rounded foot helps prevent scratching on the sides or bottom of your pot.
In addition, this thermometer is crafted with a large opening in the handle that allows users to lift the candy thermometer out of the pot using a utensil and is durable. The stainless steel body is easy to clean. Moreover, the rounded foot helps prevent scraping the sides or bottom of the pot when using this thermometer.
9. CDN DTW450L Waterproof Thermometer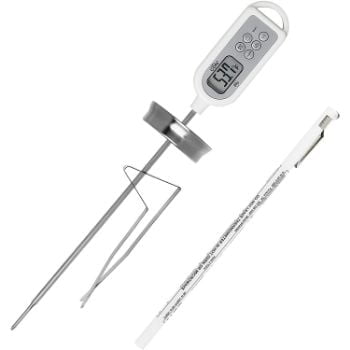 With its NSF-certified qualification, this CDN ProAccurate Waterproof Long Stem (DTW450L) Thermometer provides accurate temperature readings with a fast 6-second response. Particularly, this model stands out for its high waterproof rating being able to protect against being immersed in over three feet of water for up to 30 minutes which is more than enough protection against dropping the thermometer into a full sink.
In addition, this CDN ProAccurate Waterproof Thermometer features 304 stainless-steel stem and tip for easy insertion. The thermometer has a long 8-inch stem with a heat shield and exclusive adjustable stainless steel clip and a 2.5 mm reduced tip for roasts, meats, and poultry. It also has the measurement Range from -40 to +450 Degree°F or -40 to +230°C.
8. ThermoPro TP-16S Digital Thermometer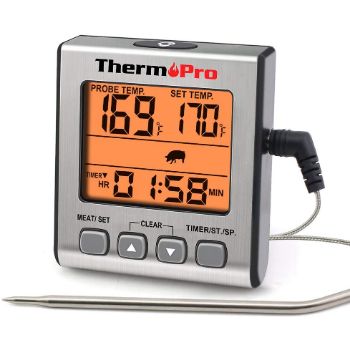 This ThermoPro cooking thermometer is designed to be the digital kitchen thermometer, featuring a magnetic back to allow you to easily attach it to the oven or any metal surface and in the pocket size for compact storage and multiple mounting options. The upgraded user experience of this ThermoPro TP16S thermometer displays the temperature and time at the same time coupled with front-facing buttons and a backlight ensures that users are able to input settings quickly in all conditions.
What is more, this thermometer is programmed with preset USDA-approved temperatures for 7 different types of meat with various doneness levels. The users can just cook with the preset temperature or altered based on your own need. Moreover, it comes with high accuracy of ±1.8°F/1°C, and a wide temperature range from 14°F to 572°F (-10°C to 300°C) plus a durable probe wire that can withstand up to 716°F (380°C) which is suitable not just for candy but more food.
7. Simple Goods Digital Instant Meat Food Thermometer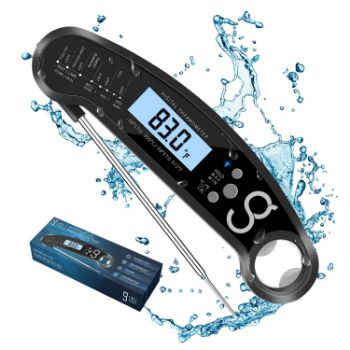 The next top-rated thermometer is from Simple Goods. The Simple Goods digital instant thermometer reads temperatures at a blazing 2-3 seconds. It can achieve a high accuracy rate of up to +/-1 F/C with its auto-calibration technology to give you the most accurate results all the time.
Not only this, this Simple Goods digital thermometer is being completely wireless so that you can early bring it along for different usage from one area to another. Moreover, it comes with an IP67 Certification water resistance level that means that the unit can be washed with water for any stains so that you can keep your thermometer clean while not being worried about damaging the product. This thermometer also boasts a high-quality electronic LCD back-lit display that measures 1.63L x 0.57W inches.
6. Powlaken Meat Food Thermometer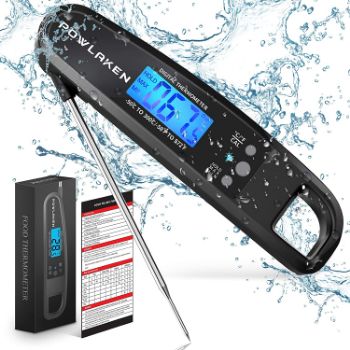 This POWLAKEN food thermometer can achieve the temperature accurate to +/-1 degrees with a wide range of -58℉ to 572℉ (-50°C to 300°C). With this digital meat thermometer at your disposal, you can confidently cook any food to perfection temperature and doneness level so that you do not need to worry about overcook or undercook.
Not only this, the speed of the thermometer in reading the temperature is quick. The second you flip out the probe it starts reading the temperature. By inserting the tip into your food, and in 2-3 seconds, you will have an accurate and easy-to-read temperature displayed on the large dial. Additionally, when you are done measuring the temperature, just simply flip the probe back, and the unit will automatically power off.
5. Habor Digital 022 Meat Thermometer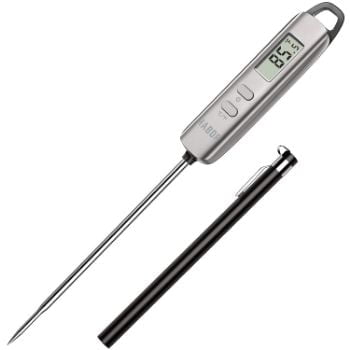 This Habor Digital Meat Thermometer is ultra-fast 4-6 seconds readings at all typical cooking temperatures, making the perfect cooking thermometer for all foods including meats, liquids, candy, wine, jam, chocolate, baked goods, and outdoor grills. With 4.7 inches long temperature probe, it is the best performing instant-read thermometer. Moreover, it can achieve readout with the accuracy of ±1℃ with a wide temperature range of -58°F to 572°F (-50°C to 300°C).
Additionally, it is very easy to use by just simply inserting the probe into your food or liquid and get the temperature. The protective sheath is easy to carry or store. It is programmed with a 10 minutes auto-shut-off function to extend the battery life. It also allows the switching freely between Fahrenheit and Celsius display by just clicking the °F/°C button.
4. Gourmia GTH9185 Digital Spatula Thermometer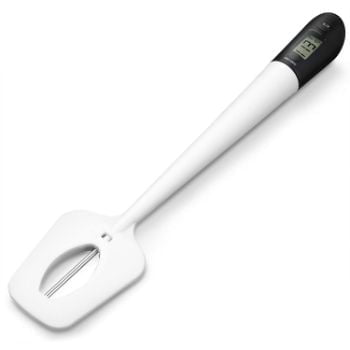 The next high-quality candy thermometer worth mentioning is from Gourmia Store. This Gourmia GTH9185 Digital Spatula Thermometer is designed to be a multipurpose cooking gadget with its 2-in-1 designs that features a detachable spatula for mixing, combining, and scraping your liquid foods as they slowly come to a boil. The removable paddle is made of soft, flexible material for neatly mixing your melted chocolates, candies, and syrups directly in the pot.
Furthermore, this thermometer offers a super-accurate temperature reading on the digital display in a matter of seconds. Its temperature range is between -58° and 572°F which is enough for more cooking. Additionally, its ergonomic handle is wide and slip-proof for long-term cooking convenience. Its comfy design and effortless operation help you move from reading to stirring without worrying about your fingers slipping into the heat.
3. Defull Candy Thermometer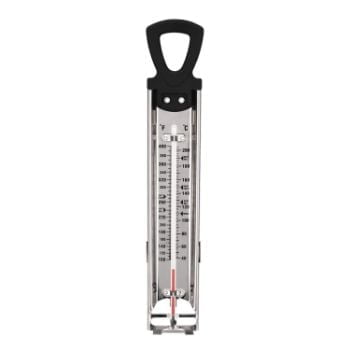 The Defull candy thermometer features the rust-proof stainless steel solid construction and pot clip attachment that holds the thermometer in place that allows a hand-free cooking experience when using it. The thermometer is also designed with an insulated handle that does not retain heat so that the user can safely carry the handle.
Moreover, the double scale display in both Fahrenheit and Celsius of the products allows users to switch based on the preference. Additionally, it allows the measurement of the temperature ranges in 40°C to 200°C or 100°F to 400°F that is enough for most home cooking. What is more, this Defull thermometer can achieve the measurement accuracy of up to ±2°C/4°F so that you can accurately measure the temperature of the food accordingly.
2. KitchenAid Curved Candy Thermometer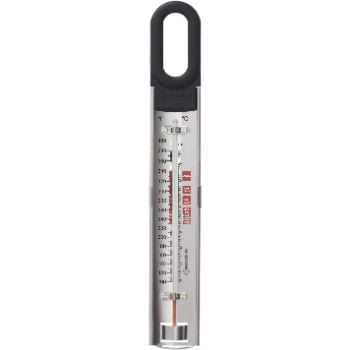 This KitchenAid Curved Candy Thermometer is crafted with an LED display and illuminated controls that are easy to read and use, even in the dimly-lit stage. In addition, the KitchenAid design of this thermometer has a curved stainless steel body that hugs the cookware sides for easier stirring and more evenly heated for consistent results.
Moreover, this thermometer includes an adjustable pan clip with a silicone coating that securely affixes the thermometer to almost all pan types while making sure to prevents it from scratching. For easy to carry and remove from the pan after use, there is an oversized stay-cool handle provided. The large and bold numbers are printed directly on the stainless to help monitor the cooking temperature.
1. CDN Digital Thermometer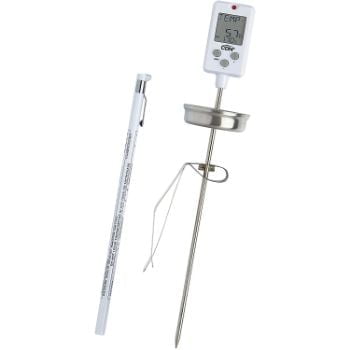 Last but not least, the final best thermometer to mention in this article is from the CDN Store. This CDN Digital candy thermometer features a large easy-to-read digital display with a temperature range of 40 to 450 degrees F. Additionally, it is also designed with an adjustable stainless steel clip to attach to the pan or to the pocket for convenient use.
Moreover, this thermometer also offers a dual progress display that shows two temperatures including the set temperature and the current temperature. This product is also equipped with an alert so you will know when the temperature reaches the level you set so that you know when it is ready to pour the next ingredient. The heat shield protects the thermometer head from hot liquids
CONCLUSION
In short, there are so many types and options of candy thermometers available on the market. To help your filter a suitable candy thermometer based on your own needs, we have listed the ten best candy thermometer for various needs above
After reading this, we hope you found and decided the one that is just right for you that will be in your shopping cart for your upcoming shopping. An investment in the thermometer will be very helpful for people who love to cook frequently.