Working in the kitchen with a dull edge is frustrating. Anyone who has spent some time in the kitchen knows about it. And most of us (if not all!), learned that a sharp knife is safer to use! Well, it's true that a sharp knife can potentially cut you deeper (in the case of an accident), but a dull edge is harder to use and pose more risk if it slips your hand!
I know you know, by now that the sharpest and best butcher knife is a great kitchen tool you could rely on. A tool that you can trust your hands with! But, you know what? Before we had the modern butcher knife, you won't believe what those knives look like!
They were a famous equipment of hunters and mountain men and had many different purposes. Butcher knives can be used for chopping onions, to skinning a game animal, and even defending yourself from assailants!
But today, the knife has substantially been reduced in size because it's no longer intended as a weapon! But before you buy yourself a butcher knife, here are something you might want to consider.
How Do You Intend to Use It?
One of the first things you need to determine is how you intend to use your butcher knife. It' s a useful knife and you can pretty much use it for everything. But sometimes, the smaller tasks may need smaller knives.
But if you want to hack some huge chunks of meat split some bones, a butcher knife can be the most effective kitchen tool you can get.
How To Choose A Best Butcher Knife
Now that you have defined where you intend to use your knife, it's time to look at the different features of knives. Not all knives are made the same, so you better know what feature you want in your knife!
Shape
There are two famous shapes of a butcher knife. One that resembles an ax with a short handle (a cleaver), and one that looks like a chef's knife but with an elongated tip. You may think that all butcher knives are the same, but each shape can outperform the other depending on the task.
When you are slicing huge chunks of meat, the latter will do the most efficient job. However, if you will be splitting bones, the former is your best choice.
Forged vs. Stamped Knife
There are two ways to manufacture knife blades. It can be done through forging or stamping. Forged knives are heavier and more durable than stamped knives. When you are choosing a butcher's knife, it is recommended to have more weight on it to help you slice meat and split bones.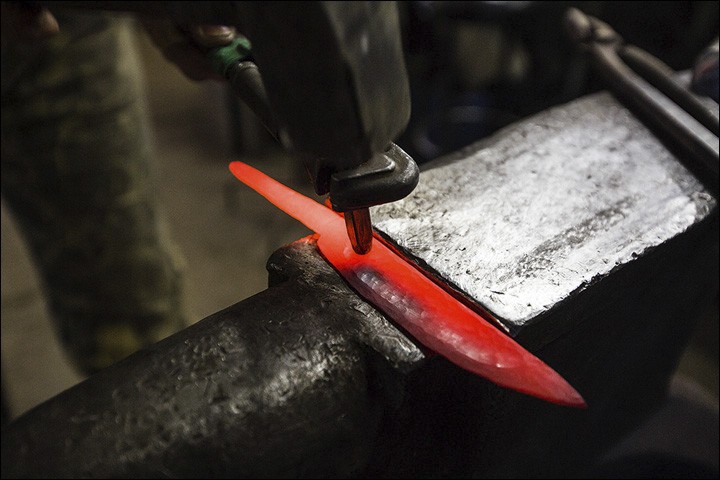 Stamped knives are a bit lighter than forged steel but have advantages too. It's lighter, so if you find forged knives too thick and too heavy, a stamped knife can be your best choice. And since it's thinner, it can make more precise cuts.
Handle
Knife handles may seem like a minor thing to be concerned about. When you first hold a knife, you wouldn't know that it's not uncomfortable. But as soon as you get your hands on a knife handle that fits perfectly on your hands, you will realize how important it is!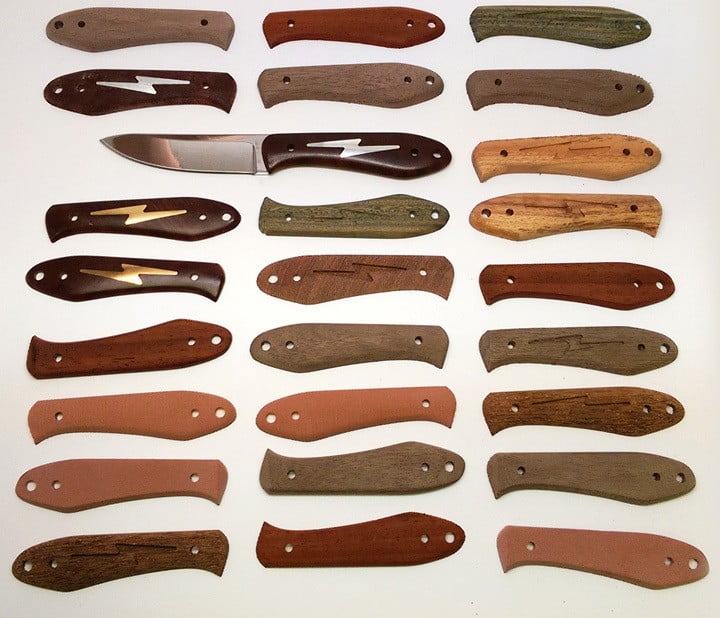 Figure out which one you are more comfortable with. There are knives with thick, rounded handles for those who have larger hands. But generally, wood will give you more grip.
Edge Retention
A good knife, whatever type of knife it is, retains its sharpness longer. This means you don't need to sharpen it that often. High carbon steel forged knives retain their edge better than stamped knives.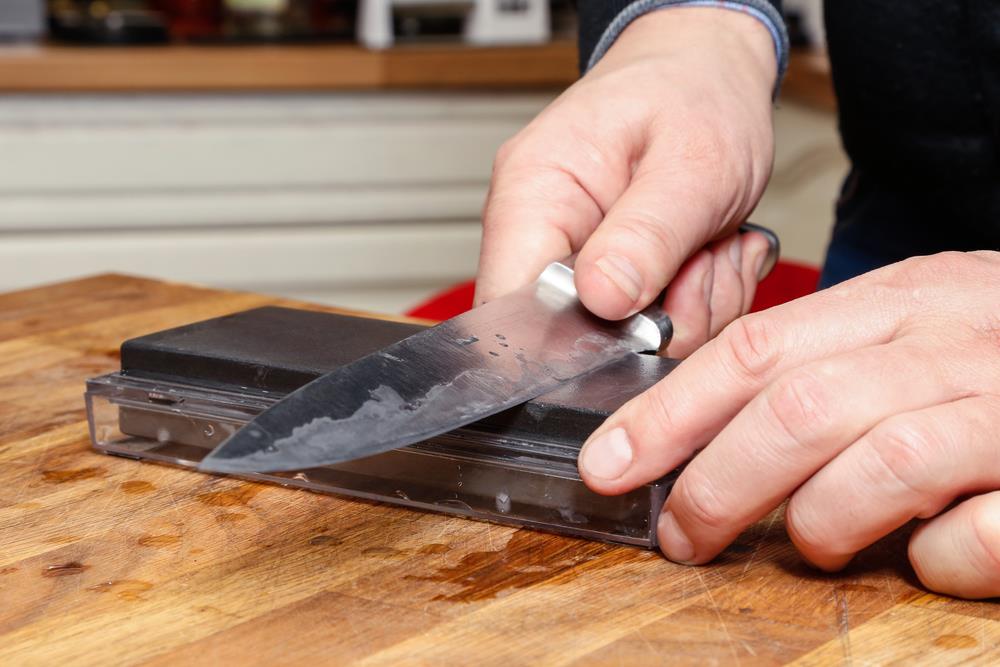 Which Is Which?
This knife manufactured by Product Stop, Inc, is a head turner. This meat cleaver has a stylish seamless blade to handle design that looks awesome on display. It's made of high-quality stamped stainless steel that you can rely on.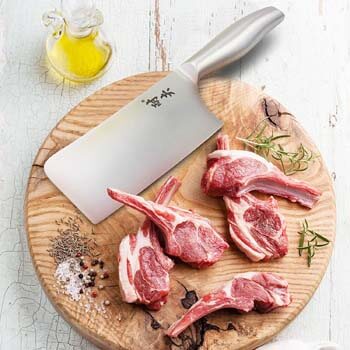 Buy on Amazon
Product Stop, Inc. even claims it could outlast you and promises a lifetime guarantee! It's rust resistant, dishwasher safe, and very easy to clean. From crushing a clove of garlic to hacking some huge bones split, this cleaver will serve you it's purpose!
PROS
Big handles – The ergonomically designed handles ensure that you always get a perfect grip on your knife.
Heavy duty – This knife is built to last. It can take a heavy beating.
Stylish design – Sleek, seamless blade to handle design. Just looking at it is pleasing!
Hole for hanging – Easily hang your knife when not in use.
CONS
Slippery handles – The stainless handle can be a little slippery if you have wet hands.
Needs sharpening – If you use it on larger bones, you may need to sharpen it often to retain a good edge.
This multi-purpose butcher knife can easily become your favorite knife. You can cut meat easily with it and even chop veggies with it. The wide blade enables you to easily scoop whatever you cut and throw it in the pan.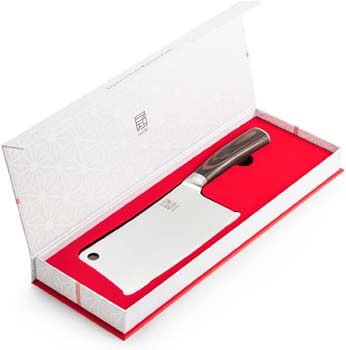 Buy on Amazon
It is made of stamped stainless rust resistant steel. With its sharp edge, you can finish any job easily. The handles are made of Pakkawood  which makes it valuable. Pakkawood does not occur naturally in nature! It's a made of composite material which makes it durable and resistant to rot and germs!
The handle material makes it more resistant to slip compared to plastic and stainless steel.
PROS
Pakkawood handles – This composite handle is durable and would not deteriorate as wood does. It's not slippery like plastic, so you are safe.
Hygienic – Even though we wash our knives hygienically, we can't ignore the fact that wood can harbor germs. Pakkawood is a composite material that is not a good medium for bacterial growth.
Retains edge well – This high carbon steel knife retains its edge well. No need for frequent sharpening.
Hole for hanging – If you don't have a knife block, you can hang your knife easily.
CONS
A little too light – If you will have a high demand of whacking through thick and heavy bones, a heavy knife helps you through. But this thing may be a little light and may require more effort from you when hacking bones.
Poor balance – A bolster weight could have corrected this flaw. The knife feels heavy on the front and light on the handle.
This award-winning knife can easily trump all your other kitchen knife. This 6" butcher knife is forged with excellent craftsmanship. You can still see the forge marks that will remind you of how tough this knife is. This knife is made with 66 layers of high carbon steel that make it extremely durable.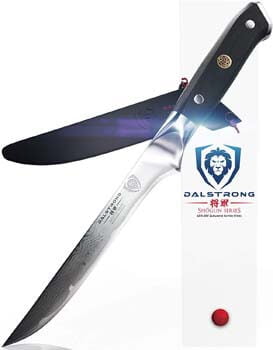 Buy on Amazon
This full-tang knife is perfectly balanced that it almost feels like a weapon! Don't be impressed yet. The handles are made of G-10 material! Just to give you an idea how tough a G-10 material is, it's made of tough resin and fiber glass. This material is highly favored in tactical gears! Again, since it's not made of wood, it will surely last you a lifetime!
PROS
Forged blade – The 66 layers of forged high-carbon steel material ensure that you have a lasting sharp edge. This also means that you have superb durability! Forged knives have a bolster where the blade and the handle meet. This adds more weight in the middle of the knife to giving it a balanced weight.
G-10 handle material – This resin based handle would not harbor bacteria. If you want to check its durability, you will find a hard time giving those handles a dent.
Perfect for separating meat from the bones – This tapered boning knife has very little resistance when you are skimming the meat from the bones. It takes a small effort to slice through thick connective tissues and meat. It deserves to be one of the best boning knives on the market.
Full tang – You can rest your confidence in your blade. It won't snap from the handles!
Comes with a beautiful box – This knife comes with a beautiful box which also makes it a good gift idea.
CONS
Quite expensive – As what we would expect from a top-notch product. It's expensive!
Not your overall knife – It sure does a great job on carving meat, but it's not the most versatile knife you can have.
This knife by Ontario Knife Co. is simply astounding. With a 10 inch blade, you can cut open a carcass effortlessly and carve it to portions! This butcher knife has a full tang that ensures the handle will not snap from the handle.
Buy on Amazon
This knife also features serrations at the spine to facilitate easy cutting and slicing. The serration ensures that there is very minimal friction with every slice. This equates to more productivity and gets the job done quickly! With a 10" blade, you can defend yourself from a bear!
PROS
10 Inch blade – This 10-inch blade will surely get you a precise cut when carving your wild game!
Full tang – Heavy duty full tang knife. Hack with all your might and never worry about breaking your tool!
Serrated/grooved spine – This minimizes the friction while you cut meat, so you are in for a swift job.
Retains edge well – This rust resistant blade ensures that you can work longer without interruption.
CONS
Wood handle – Though hickory is a durable wood, it still wood and prone to rot in the long run. If you don't take good care of it and clean it properly, it can be a good breeding ground for bacteria.
Old-school handle – They could have fashioned a more ergonomically fitting handle for more comfort. If you like it old school though, you may find It nice!
Rada Cutlery is a decent brand with high-quality items in the market. Their knives are becoming a valuable tool you can get your hands on. This 7 and ¾ inch knife can be used in many ways. It's made of high carbon stainless steel that can retain its sharpness well.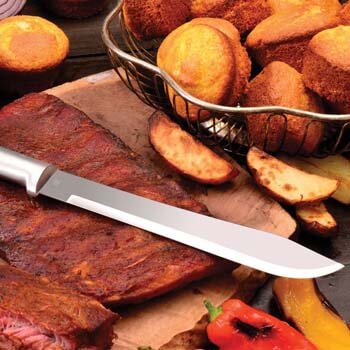 Buy on Amazon
It has a brushed aluminum handle that makes it less slippery. The blade and the handle are also seamlessly joined in the middle giving it a professional look. This stylish knife comes with a lifetime guarantee! Yep, that is how confident this company is! It's not just sleek and stylish; it can also do a great job in the kitchen!
PROS
Brushed aluminum handle – The handle design makes it less slippery so you could handle it without a problem.
7 ¾ blade – This blade is just the right size for almost every job! You can almost use it for anything!
Affordable – You don't have to spend a fortune to get this decent knife.
Lifetime Guarantee – What more can you ask for? It's not expensive, and it has a lifetime guarantee!
CONS
Often needs sharpening – It does not hold its edge very well.
Not dishwasher friendly – You run the risk of damaging the knife's finish if you run it in the dishwasher. Better wash it in the sink!
Final Words
If you are in for some meat-cutting frenzy, the best butcher knife you can get probably is Dalstrong's forged boning knife. It may be very specific to cutting meat alone, but hey, you get a butcher knife. It's intended for butchering protein. So, this is the best way to go for slicing and cutting meat.
If you are on a tight budget and want to get an overall effective knife, Issiki's cleaver is a great choice. It may not be the cheapest, but you get a decent knife that you can serve you well in the kitchen.
Have you found this post useful? I hope I get to help you decide which knife is the right one for you! Feel free to ask questions in the comment section. I will get back to you as soon as I can!