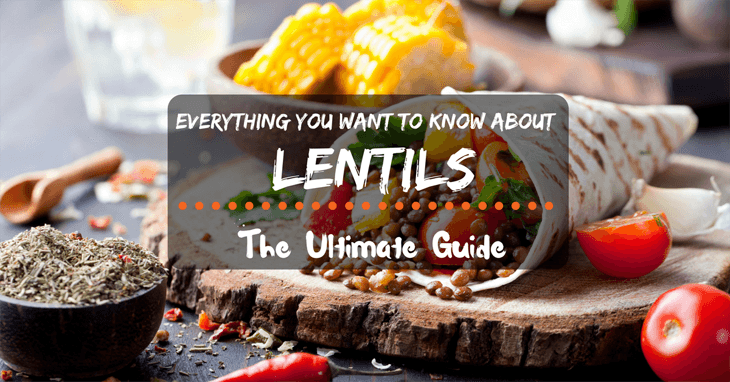 Everything You Want To Know About How to Cook Lentils: The Ultimate Guide
Lentil is a fascinating legume that has a high nutritional value. They grow in a pod and is dried after harvest. This gives lentil a low moisture content which is ideal for storing for a long time. The lesser the water, the less likely it is to be a good environment for bacteria to grow.
They an excellent source of protein, fiber, and b-vitamins. This is a great alternative source of protein, especially for vegetarians. They are inexpensive and has a long shelf life.
Culinary chefs have found a lot of different ways to cook lentil across the globe. They can be mixed with rice as they have relatively the same cooking time and they are also a great accompaniment for main courses.
They can even be pureed and mixed with soup and some types of deli to increase the dish's nutritional value! Truly a lentil dish can be a healthy and nutritious food that can be prepared in numerous ways!
More...
All About Lentils
Lentils have the second highest (next to soybean) content of protein among all the varieties of the legume family. Lentil has around two-thirds of protein content compared with soybeans per 100g of raw mature seed. That is about 25g of protein per 100g of uncooked lentil.
When cooked, a hundred grams of lentil gives you 116 calories of 20g of carbohydrates, 8g of fiber and 9g of protein. It has a pretty good balance of the macronutrients you need daily.
It is also rich in B-vitamins and has a high content of folate!
Nutritional Value
Overall, lentil is a great addition to your menu. This can be an amazing food choice for weight-watchers as it has a low carbohydrate content.​
Availability and Forms​
They are available in the market in different forms. They are not hard to find, and almost all grocery stores have them in dried form. Lentils are commonly named after their color.
Depending on the variety, some lentils can be cooked as fast as 10 minutes. Lentils without husk can cook even faster. This makes preparing lentils convenient. You can easily have it in less time even if you are in a hurry.
Sprouted lentils can be quite hard to find readily in stores but can be easily made. Soaking lentils in water for 24 hours and letting it sit in a moist environment will easily germinate the beans for your sprouts in around 3 to 4 days.
Common Types of Lentil
Lentils come in many different colors. Each has a distinct flavor from the other and are each type may be preferred for certain dishes. Let's get to know the different types of lentils that you can buy.
Benefits of Eating Lentil
Lentil is a high-value vegetable. They are easy to cook and can be eaten with a wide selection of other dishes. But aside from their distinct and delicious earthy flavor, they are packed with high nutritional value which can improve your health too!
1.Muscular Growth and Repair
They are the second highest vegetable source of protein. Protein is the building block of muscle, and it can help you repair damaged muscle tissues. Vegans can also use this as a substitute for their source of protein. Being high in protein, body-builders and athletes can reap the most out of it! This can liven up and expand their selection of food.
2.Low Cholesterol and Healthy Heart
Preferring lentils and other vegetable food source over meat and dairy can help you manage and control cholesterol levels with its high fiber content. Cholesterol and attaches to soluble fiber can be swept away from the bloodstream.
This keeps your arteries from being clogged by deposits. Ultimately, with proper food combination and choices, you can delay the onset of heart problems and even lower the probability of catching a heart ailment!
3.Bowel Movement Regulation
Aside from having a good amount of soluble fiber, the husk of lentil is a rich source of dietary insoluble fiber. Consuming the right amount of fiber daily can help you facilitate easy passing of stool! This may sound a little non-sense for you today, but a few years from now, these simple steps can help you prevent catching dreaded digestive tract anomalies. Yes, you may want to consider taking your bowel movement seriously!
Preparation and Storage Lentils
Lentils can be easily bought at your local grocery store. But to make things easier for us, we might prefer to buy in bulk and store it in our kitchen. We can even cook it in advance and store it in the refrigerator for easy access whenever we need it for a dish.
3 Ways To Cook Lentils
Just like lentils come in different colors, it can also be cooked in various ways. And the best thing about these? They are very easy to do and will not consume too much of your time. With that in mind, here are 3 of the best ways to cook lentils.
Pro Tips - Advice From Famous Chef
Lentil is an awesome food source. Its tasty, easy to cook and packed a good amount of nutrients! Let's see and learn from the pros how they use lentil in their recipes! I know, it's a basic ingredient in the kitchen, but, these kitchen icons love them too!
Mistakes when Cooking Lentils
It may seem like cooking lentils is pretty straightforward. However, many people tend to commit a few mistakes along the way. If you do not shy away from committing these mistakes, you will end up with a bowl of lentil dish that you will not be satisfied with.
To help prevent that, below are some of the common lentil cooking mistakes that you should definitely avoid committing:
Best Ways to Eat Lentils
You may have been drooling and craving lentil recipes for the past few sections of this article! I know, the feeling! I'm craving while writing too! To address that craving issue of ours, below are some ways to enjoy lentil in your daily life.
Summary
Lentil is an amazing seed that you can buy without a hassle at your local grocery store. They are packed with protein, carbohydrates, fiber, vitamins and minerals. They are fairly easy to cook and can be used in many types of dishes.
Another good thing about it is they can be easily stored in the fridge or frozen in your freezer. Cooking large batches ensures you can have a lentil dish anytime you want!
They can be a good vegetable source of protein which you can substitute for meat. Even professional chefs across the globe love to cook and eat them! Lentils are perfect for soups, stews, salads, curries, and side dishes. The combination of ingredients you can use with it is virtually limitless!